This is the opening quote I typically open my seminars with.
Is it bad? Not really, as this is exactly what creates the hype around stocks and makes some people wealthier while others… well, not that much.

It is what separates the wheat from the chaff.

First things first
Alibaba (NYSE: BABA), yes, this is what this post is about, having the bless and the curse to operate via a regime not particularly known for its open, liberal mind but one that addresses half the population of planet earth as we know it and with spillover effects on the other half – I mean consumer effects.

A stock that has come in and out of favour for the better part of the last 9 years since its US IPO – each time for different reasons.

The last one was about Ant – a company which was forced to withdraw its listing back in 2020 due to "regulatory concerns" and in which Alibaba has a 33% stake, thus a decision pointing to Alibaba itself.

A bad piece of news only to be followed by an even worse one about delisting Chinese stocks from NYSE, which is what makes them so popular after all.

The result?

A company with an intrinsic value of $250 per share, as per Damodaran's sheet calculations (a book of this distinctive author which I had the pleasure to use as main textbook during many years in my corporate finance teachings at private colleges in the not so distant past), ended up being the forgotten, the unspoken of.
You can take a look at its no-frills graph below and you can tell that from its high of $320 in 2021 to its low of $63, it had shed 80% of its value. The excessive sellout came, as expected, around that $63 bottom whereby rumours about its delisting intensified, so called "analysts" started to give price targets at around $50 (as if an 80% fall was not enough for their hungry, click- hunting stories) and of course Alibaba appeared not such a sensible stock to own at all at that point (same story with S&P 500 at the 2174 bottom in the post Covid sell off, by the way).

Another quote I use to close my seminars with, this time, is that in order for you to achieve long term over performance, you have to pay the price of intermediate excessive volatility with often double digit falls. One that will certainly make others ditch their shares and need not look back. You can protect yourself in the meantime with options and risk management techniques but more on those on another post.

Just yesterday, the 4th of January of 2023, it was "suddenly and unexpectedly" announced that after all these excruciating months of waiting, Ant is getting an approval to raise their capital base, hence pointing to lax rules and a brighter future.

Alibaba, and other fellow chinese stocks, sported a +14% increase.

Before that, and prior to any news, the stock was hovering around the $86 – $92 region, effectively accumulating for this breakout. Why accumulating?

Because its behaviour even in the last minute was one that aimed at scaring the impatient. You could see a +5% on day, and a -4% the next one, only to be followed by a +3% the next day. On the last day before the breakout, the stock opened again on the plus, intended to scare a bit – not for the fainthearted. You could spot the occasional buying at the dips every day and its resilience despite the S&P falling 300 points during the same period (December 2022).

The scenario going forward?

Well, Alibaba has paved the way to reach in the short term its $120 peak of July 2022, hopefully making a return back to around $85 so that it can form a long term Inverse Head and Shoulders formation which it will then give it a projected price of $170 grosso modo.

Why do we need this?

Because if it goes up into a straight line, it will obey the rule of a return to the mean and as its rise will be steep, it will finally succumb to gravity and return to its mean – abruptly as it rose.

Quiz: take a look at the two graphs attached, one is Alibaba over the course of the last 5 years and the other is a popular, internet sourced, graph of market psychology during cycles.

Juxtapose these two graphs and tell me if you can see any difference….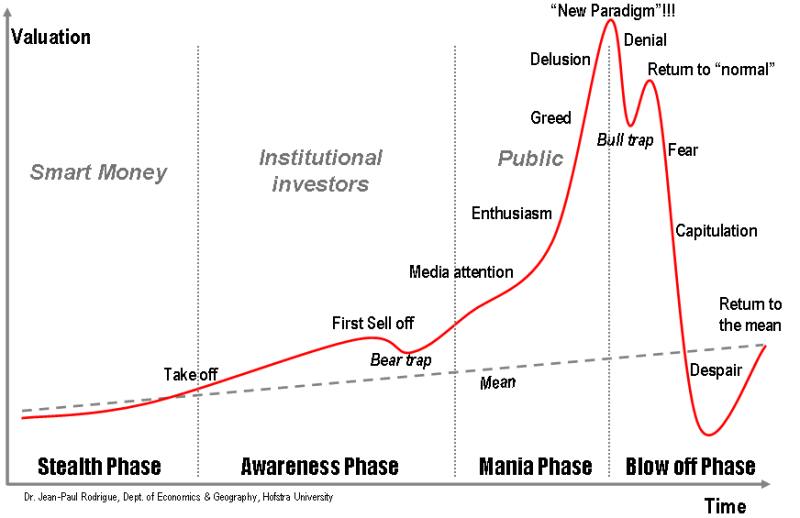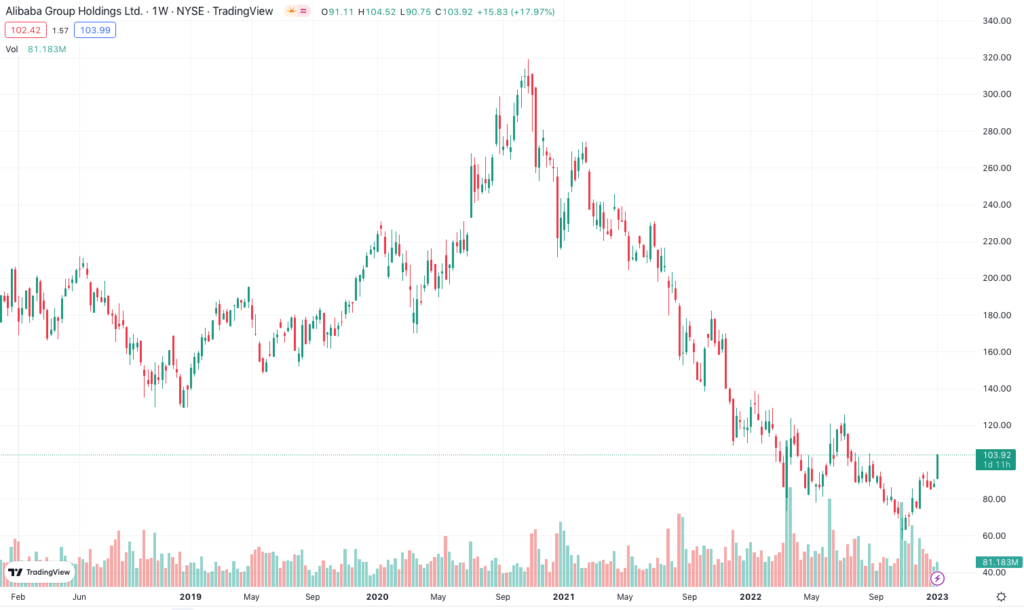 Until the next one….
The market represents a fraud under the current legislation